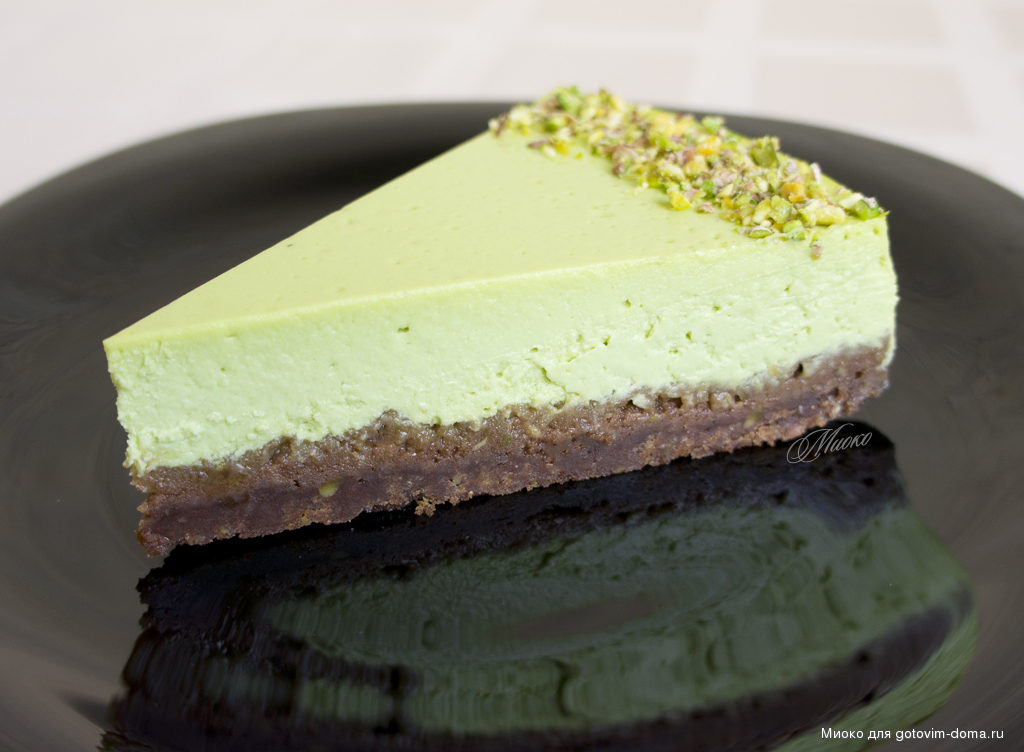 INGREDIENTS
BASE
• 100g cooled butter
• 200g all-purpose flour
• 4 tbsp ice water
• Pinch of salt
for caramel-pistachio crumb:
• 40g sugar
• 45g melted pistachio
• 15g cold butter
CHEESECAKE
• 650g cream cheese
• 120g sugar
• 2 eggs
• 100g heavy cream
• 90g pistachio paste or pistachios milled into powder
MASCARPONE CREAM
• 150g mascarpone
• 100g heavy cream
• 30g powdered sugar
• ½ vanilla bean
RECIPE
CARAMEL-PISTACHIO CRUMB
1. Put the sugar into saucepan (with thick bottom) and heat on medium high until the sugar starts melting around the edges. Carefully swirl the sugar with a heatproof spoon until all the sugar has melted. If you're using a baking thermometer, the sugar should be about 170°C.
2. Add the cold butter, piece by piece, and stir until it melted. Put grinded pistachio, stir and pour hot mixture on the parchment paper.
3. Let the mixture cool down until solidify. Grind into a fine crumb.
BASE
1. Preheat oven to 180°C degrees.
2. All ingredients for the dough must be cold, so previously put water and butter in a freezer for 10-15 minutes.
3. Grate cold butter constantly stir with flour. On the other hand, you can use a blender.
4. Pour water into the mixture, add caramel-pistachio crumbs, and quickly knead the dough. You do not need to knead long time, just to gather into a ball.
5. Put it to rest in the fridge for 30-60 minutes.
6. Then roll out the dough between two sheets of baking paper approximately 3-5mm thick and place in the freezer for 5-10 minutes.
7. Bake 15-20 minutes, until lightly browned.
8. Remove from the oven and cut at the right size while the base still soft.
CHEESECAKE
1. Preheat oven to 130°C degrees.
2. Rub the cream cheese (at room temperature) with sugar and pistachio paste.
3. Add the eggs, one by one, stirring well each time. At the end, pour the cream. Avoid getting large amounts of air - stir the cheese mass with a spoon or spatula, not a mixer.
4. Butter cake ring, lay cooled base at the bottom and pour cheese mass.
5. Bake 40 - 60 minutes with a water bath: place the pan with hot water to the bottom of the oven and put a cheesecake on average. If your oven is very intense better to cover cheesecake with foil so it will not redden.
6. Center of dessert should tremble slightly. To avoid the appearance of cracks, leave it inside oven until cool.
7. Then place cheesecake in the fridge for at least 5-6 hours.
MASCARPONE CREAM
1. All ingredients must be cooled.
2. In mixer bowl, place mascarpone cheese, pour the cream, add powdered sugar and vanilla seeds and beat for 30 seconds at the lowest speed, then increase the speed to high for 3-4 minutes, until the cream will fluffy.
DECORATING
Carefully cut to the edges of the form with hot knife, shift cheesecake on a serving dish, cover with cream in a circle squeeze it through a pastry bag, decorate the top with crushed pistachio. Bon Appetit!
Источник: http://cheesencakes.com/blog/fistashkovyj-chizkejk

Фисташковый чизкейк рецепт с пошагово в фото